Improve corporate value through "manufacturing that adapts well to change"
~Establish the foundation for Nippon Piston Ring to prosper for 100 years, through marketing and innovation~
Last year's world economy improved on the whole, thanks to the steady growth of Asia's developing countries as well as the satisfactory recovery of Europe and America. The Japanese economy also continued its gentle recovery, with improvements in employment and personal income supporting a favorable turnaround in individual consumption. However, there are risks to the world economy posed by changes in the U.S. financial situation such as the recent rise in interest rates, by the policies based on protectionism, and by the rise of the consumption tax this year in Japan. Thus, a sense of uncertainty about the future will grow.
Despite these conditions, in the automobile industry, where our company is most involved, gentle rise in vehicles produced is expected, thanks largely to the rise in demand in overseas markets, primarily those in developing countries. Furthermore, the strengthening of measures to deal with worldwide environmental problems has been increasing demand for low fuel consumption and low exhaust vehicles, which will further increase the need for our company's products with their technological advantages.
In order for the NPR Group's sustainable growth, we have adopted the basic policy of our seventh mid-term business plan, Improve corporate value through "manufacturing that adapts well to change" ~Establish the foundation for Nippon Piston Ring to prosper for 100 years, through marketing and innovation~, which we started last April and whose last fiscal year is 2020. To accomplish this, we are working to implement the following main initiatives.
(1) Increase sales that is oriented to making and using technical proposals, both domestically and abroad
(2) Strive for innovative manufacturing
(3) Strengthen new product development
(4) Strive for the world's highest quality, by strengthening human resources development
(5) Continue to promote Corporate Social Responsibility activities
In the future, we shall keep striving to increase our Group's corporate value, and accordingly I humbly request your deeper understanding and stronger support of our efforts.
Akira Yamamoto
President

Company Overview
Company name
NIPPON PISTON RING CO., LTD.
Head office
5-12-10, Honmachi-Higashi, Chuo-ku, Saitama City, Saitama, JAPAN 338-8503
Phone: +81-48-856-5022 FAX: +81-48-856-5038
Date of foundation
April, 1931
Date of establishment
December 20, 1934
Capital
9,839 million Japanese yen
Number of employees
683 (2,996 with affiliated companies)
(March,2018)
Directors (Mainly responsible divisions. Executive Officers are responsible for other division or department not mentioned here. )
President
Akira Yamamoto (Internal Auditors Office)
Executive Vice President
Shigeru Oishi
(Corporate Management Department, General Affairs Department, Information System Department, NPR Iwate Co., Ltd.)
Managing Director
Yuji Sakamoto (Business Planning Department, Tokyo Sales Department, Nagoya Sales Department, Osaka sales Department, International Sales Department, METAMOLD Business Promotion Department, Nippon Ring Service Co., Ltd.)
Managing Director
Teruo Takahashi (Technical Engineering Department, Product Engineering DepartmentI, Product Engineering DepartmentII, Research & Developmen t Department, New Product Business Development Department, NPR Fukushima Works Co., Ltd.)
Director
Masaaki Fujita (Corporate Planning Department, Overseas Operation control Department, Finance Department)
Director
Zhongliang Yang (Quality Assurance Department, Production control Department, Production Engineering DepartmentI, Production Engineering DepartmentII, Production Engineering DepartmentIII, Tochigi Plant, NPR ASIMCO Powdered Metals Manufacturing(Yizheng) Co., Ltd)
Director
Ryosuke Nagumo
Director
Kan Ishii
Audit & Supervisory Board Member (Standing)
Yoshihiro Sato
Audit & Supervisory Board Member (Standing)
Iwao Hiraishi
Audit & Supervisory Board Member
Hiroshi Ishibashi
Audit & Supervisory Board Member
Osamu Takai
Audit & Supervisory Board Member
Hiroki Kimura
Operating Officer
consisting of seven members
Sales Record
Sales by product in 2017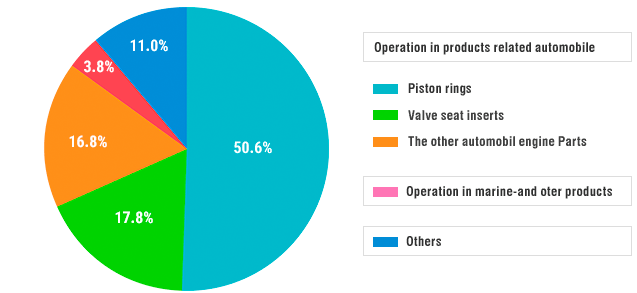 Trend in sales (FY2013 - FY2017)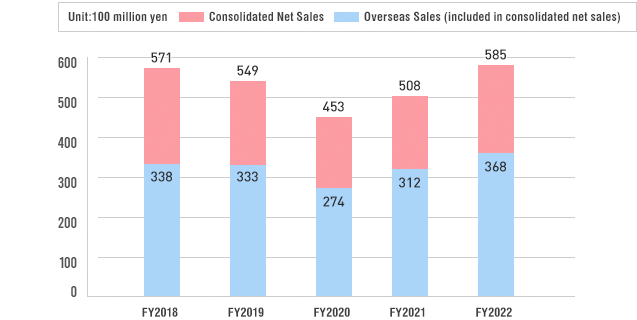 Business Outline
Main business of the NPR group is production and sale of automobile engine parts, marine engine parts and other products.
Main Products
For automobiles
Piston rings (for motorcar, for motorcycle, and other internal combustion engine use)
Valve seat inserts
Other automobile engine parts (Composite comshafts, Cylinder liners, Alloy cast iron camshafts, etc)
For Marine engine and other products
Marine Piston rings, Industrial large size piston rings,
Metal injection molding parts (for Industrial equipment, for Office autmation equpment, for leisure goods, etc),
Compressor parts, Medical equipment parts (Dental implant)
Main customer (Japanese alphabetical order)
Japanese automekers

ISUZU Motors Ltd. / KAWASAKI Heavy Industries Ltd. / SUZUKI Motor Corporation. /
SUBARU CORPORATION / DAIHATSU Motor Co.,Ltd. / TOYOTA Motor Corporation. /
NISSAN Motor Co.,Ltd. / HINO Motors Ltd / HONDA Motor Co.,ltd. /
MAZDA Motor Corporation. / MITSUBISHI Motors Corporation. /
MITSUBISHI FUSO Truck & Bus Corporation. / YAMAHA Motor Co.,Ltd /
UD Trucks Corporation.
Overseas automakers

Audi AG / GENERAL Motors Company / Daimler AG / Harley-Davidson, Inc. /
Hyundai Motor. Co., LTD / Ford Motor Company / Volks Wagen AG
Japanese marine engine makers and the other

Akasaka Diesels Ltd. / ISEKI & Co.,Ltd. / KUBOTA Corporation. /
KOMATSU Ltd. / Japan Engine Corporation / HANSHIN DIESEL WORKS.,LTD /
Hitachi Zosen Co.,Ltd / MITSUI Emgineering & Shipbuilding Co.,Ltd.
Overseas marine engine makers and the other

WAERTSILAE., LTD / HYUNDAI HEAVY INDUSTRIES Co.,Ltd / MAN DIESEL SE
Membership of main organizations
JAPIA

Japan Auto Parts Industries Association
JSMEA

Japanese Marine Equipment Association
LEMA

Japan Land Engine Manufacturers Association
JFS

Japan Foundry Engineering Society
JAST

Japanese Society of Tribologists
JPMA

Japan Powder Metallurgy Association
JDMA

Japan Dental Materials Manufacturers Association
JADIS

Japan Association of Dental Implant Suppliers
Main Banks
Shinsei Bank, Limited/ MUFG Bank, Ltd./ Sumitomo Mitsui Bank, Corporation/ Saitama Resona Bank Ltd./ Development Bank of Japan Ltd.

1931
Established Nippon Piston Ring Works
1941
Mass-produced the hard chrome plated piston ring for aircraft
1949
Listed on the Tokyo Stock Exchanges
1960
Acquired U.S. and U.K. patent on the NIFFLEX, three-piece steel oil control piston ring
1966
Commended by the MITI. (Ministry of International Trade and Industry) as a distinguished
1973
Established sales company Schöttle Motorenteile GmbH in Stuttgart, Germany
Established a directly sales company NPR of America Inc. (NOA) in Los Angeles, U.S.A.
1986
Opened NOA Detroit Office in Detroit, U.S.A.
1992
Entered into long-term contracts to deliver piston rings to Mercedes-Benz AG. (Daimler) of Germany
1996
Acquired stock in IP Rings Ltd. of India
1997
Established a joint manufacturing company Siam NPR Co., Ltd. in Thailand. (100% invested by NPR since 2002)
1999
Established NPR OF EUROPE in Germany
2001
Established PT.NT Piston Ring Indonesia in Indonesia.
2004
Established NPR Manufacturing Michigan Inc. in the U.S. (100% invested by NPR).
2005
Established NPR Auto Parts Manufacturing (Yizheng) Co., Ltd. in China
2006
Established PT.NPR Manufacturing Indonesia in Indonesia
Established NPR Auto Parts Manufacturing (Zhenjiang) Co., Ltd. in China
Established NPR Manufacturing Kentucky, LLC in U.S.A
2011
NPR US Holdings, Inc as a continuance company, merged extinctive companies such as NPR of America, Inc. , NPR Manufacturing Michigan, LLC and NPR Manufacturing Kentucky, LLC and changed company name of itself into "NPR of America, Inc." after the merger.
Transferred all holding stocks of NPR Shimane Co., Ltd.
Established NPR Auto Parts Manufacturing India Privatel Limited.
2012
Merged NPR kawaguchi Works co., Ltd. and NPR Distribution center.
NPR Auto Parts Manufacturing (Yizheng) Co., Ltd. as a continuance company merged extinctive company such as NPR Auto Parts Manufacturing (Zhenjiang) Co., Ltd.
Established NPR Powdered Metals Manufacturing (Yizheng) Co., Ltd. in China.
2013
Re PT.NT Piston Ring Indonesia, NPR dissolved joint venture contract, and medeit 100% subsidiary.
Established NPR ASIMCO Powdered Metals Manufacturing (Yizheng) Co., Ltd. as a joint venture company with Yizeng Yaxinke Shuanghuan Piston Ring Co., Ltd.
2014
Take Over the business of Metalinjection molding from Sumitomo metal mining Co., Ltd.
Take Over the business of Dentalimplant from Ishifuku metal industry Co., Ltd.
2015
Established Dental implant Medical Device Center in Tochigi Plant